Cellars:
new technical buildings,
for tailor-made vinification
All the steps in the vinification process have now been revised to meet the estate's new requirements and ambitions.
Architect Sylvain Dubuisson was called in to re-think the whole of the enlarged and redesigned vat room.
"At Malleret, there remains the spirit of a long line of prestigious owners. The château, which bears traces of transformations spanning several centuries, and the beautiful 19th century park, are immersed in a vast property of vineyards and woods. Near the château, the newly renovated stud shows a taste for excellence.
At the entrance to the estate, the creation of new winemaking facilities in new or renovated buildings resonates with the history and spirit of the place to the point of almost appearing obvious. Although profoundly restructured, the buildings form a classical composition from their various angles and blend history with the present.
On the Chemin de Malleret side, the new vat room in the centre, covered with a monumental white trellis on an ochre background and bordered on one side by the bottle store and on the other by the cellars, makes the most of the modernity of its awning.
On the park side, the buildings form a courtyard in front of a brick-clad gallery. And to the right of the vat room, a white shade marks the entrance and protects the two large windows of the inner naves.
The different trades, each in their field, have created, at our instigation, works that express the high quality of their know-how, a quality that values them as highly as that of the owners who offer them the opportunity for excellence."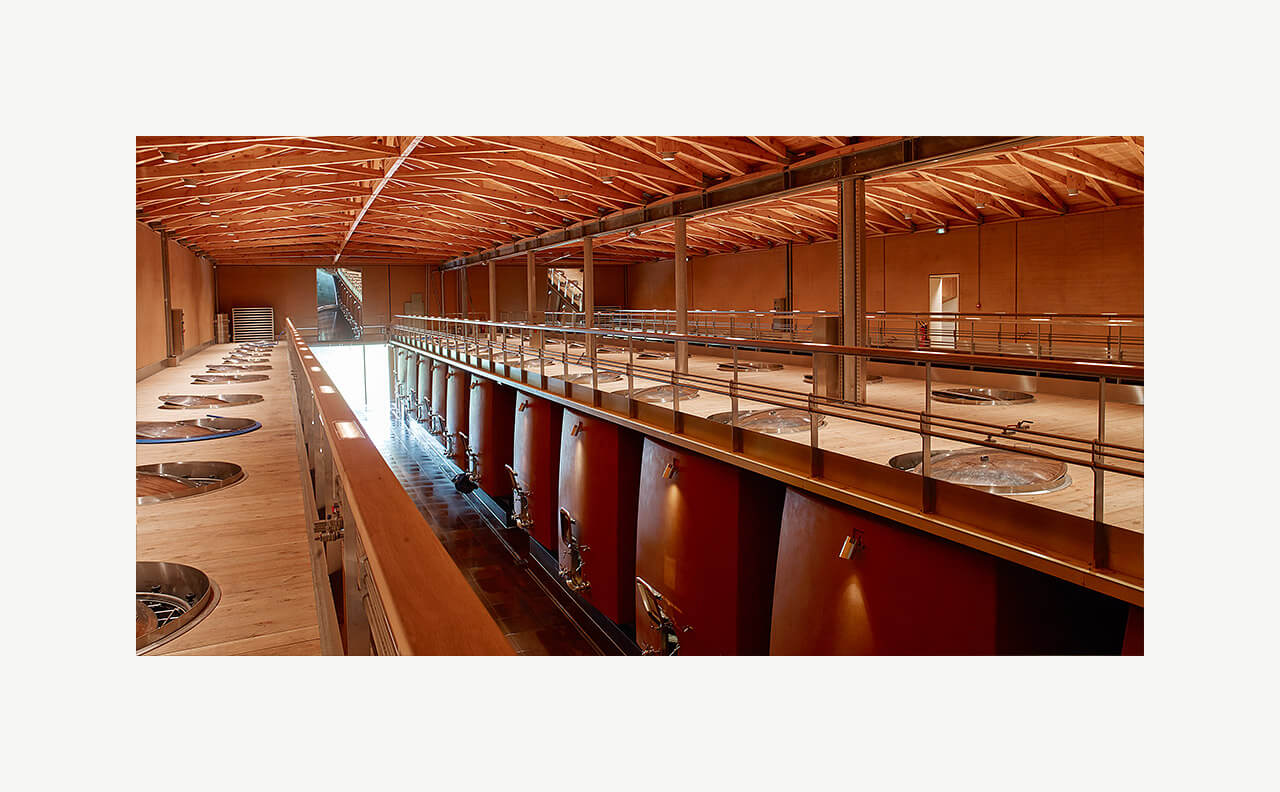 A series of concrete tanks, with capacities ranging from 60 to 140 hl and wood tanks of 40 hl, allows each plot to be kept separate for more precise blending. Filling is by gravity.
The cellars have been reconfigured to accommodate around a thousand barrels.
Thanks to the earth-to-air heat exchangers, they operate using passive energy.
Passive buildings
The new winery facilities and vat house were designed to limit energy consumption per square metre. This approach is fully in line with the estate's commitment and enables it to limit water and power consumption, greenhouse gas emissions, discharge into rivers, air pollution, and waste generation.
Earth cooling tubes were also set up, together with geothermal energy, heavy insulation using natural products (wood wool and cork aggregate), the addition of a sun-shade and mashrabiyas on the south side to limit the impact of sunshine, and also ventilation stacks.
Adapted equipment in winery facilities
The use of a Barrilav, a rotary scrubber for barrels, helps to reduce water and electricity consumption and limit the need for handling by winery workers.
This washing process is supplemented by the use of UV wands, a proven alternative to sulphur burning, which reduces sulphites in wines and limits the risk to users and consumers.